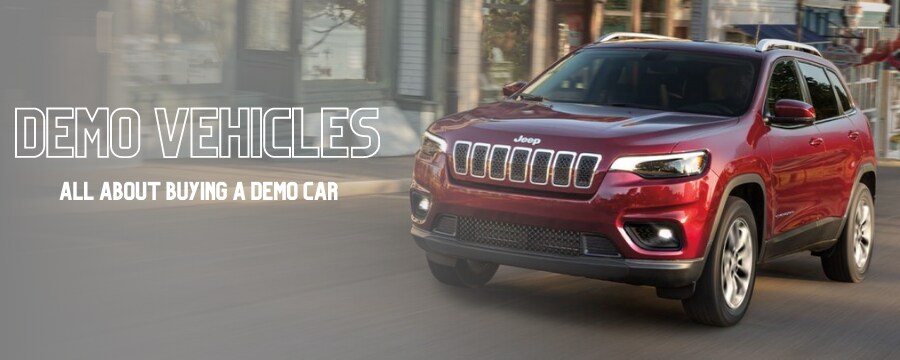 Throughout your research, both in-store at Ray CDJR Fox Lake and online you've more than likely come across the term "demo vehicles." It might be safe to say that you've then asked yourself "What exactly is a demo vehicle?"
What is a Demo Vehicle?
Demo vehicles are new cars that have been driven by employees or customers of a dealership for a few weeks to a few months. Customers usually test-drive these vehicles, drive them when their vehicles are receiving service from our service department, etc.
Sometimes we allow our sales staff to test drive these vehicles for a few days so they can effectively answer any and all questions that customers may have. We want to make sure that you drive home in the right vehicle for you and your family. We want it to seamlessly fit into your lifestyle. To do this effectively, we need to drive some of the vehicles on our lot.
How Many Demo Vehicles are Available?
The number of demo vehicles at Ray CDJR Fox Lake varies monthly. Once a vehicle has roughly 5,000 miles on it we try to retire that demo vehicle. Once it is officially retired, our service technicians put it through a stringent multi-point inspection to make sure that it will continue to run perfectly. After all of this, it can then be sold at our Illinois Jeep dealer.
How Many Miles Are on Demo Vehicles?
Our demo vehicles have around 2,000 and 6,000 miles on their odometer and they are not considered used vehicles. Of course, some of our demo car deals in Fox Lake see a few more test drives than others, some have been driven for a longer period of time, and so on. However, as stated earlier, most of our demo cars never see more than 6,000 miles. Since these vehicles have never been "sold" they are considered new vehicles, so they do in fact qualify for rebates, financing, warranties, and more.
If you are in the market for a new vehicle, a dealer demo vehicle might be the call. We want to help turn those miles into savings! Below, we will go over a few of the benefits of purchasing a demo vehicle from Fox Lake Ram.
Benefits of Purchasing a Demo Vehicle at Ray Auto Group
At this point, you might be wondering, "Why would a loaner vehicle from Ray Auto Group Fox Lake be the way to go when I can purchase a new or used vehicle?" Well, that is a great question and we are more than happy to be of help. Here are a few reasons why:
The Demo Vehicle Will be in (almost) Perfect Condition  
Demo vehicles at this Fox Lake car dealership are in tip-top condition. Since they are slightly used these demo models do not see a ton of the road. As stated above, most demo vehicles are used for test drives, loaner vehicles for customers waiting on auto service, or driven by staff to get better knowledge on the vehicle.
Demos Are Usually Higher Trim Level Models
These demo cars for sale near me usually are home to some great features and specs. Higher-level trim models are used as demo vehicles as we want to showcase all the spectacular features available. So when you purchase a demo vehicle, it's likely to be "tricked out." If you are interested in driving a car that has it all, then a demo vehicle is perfect for you.
You Have a Full Rundown of the Demo's History
As previously stated, there are a few different categories of demo cars. Usually referred to "dealer demos" these are specifically used for test drives at this IL car dealership. "Courtesy cars" are specifically given to customers whose cars are receiving auto service. Less known "factory demos" are sometimes made specifically to be shown off on the big stage! 
Regardless of what the demo vehicle was before you met, that information will be shared with you upfront. Some local car dealerships aren't too keen on sharing information on vehicles, but this car dealership in Fox Lake is more than happy to share a full history report with you!
Same Warranty as any Other Vehicle
Demo models are sold with the manufacturer's warranty like that of new models. While these demo cars technically aren't new vehicles, they do drive like them. You can confidently leave our Fox Lake car dealership knowing you made the right purchase and choice! And if anything does happen down the line, know that your vehicle is still covered by the manufacturer's warranty! We will happily take care of you and your demo car here at a Chrysler dealer near me.
Available on the Spot
With demo cars, a huge upside is that you can drive it right off of the lot. You don't have to wait for it to come in stock, there no need to wait for shipment, no need to worry about supply concerns to get in your way! You can drive off our lot in your dealer demo car the same day.
Dealer Demo Vehicles Cost Less
When you choose to buy a demo car at a car dealership in Illinois, you will end up paying less than what you would pay for a new car. Just like when you choose to buy used, demo vehicles allow you to get the best savings, rebates, and financing! 
Shop for a Demo Vehicle at Ray CDJR Fox Lake Today! 
If after browsing our website, you see demo car deals that you like contact us to set up a test drive! We have many demo model available for purchase that we are sure you'd enjoy! 
For more information on our demo car inventory, demo/loaner car deals, as well as new and used vehicles for sale at a Fox Lake car dealership feel free to reach out to us! 
Hours
Monday

09:00AM - 09:00PM

Tuesday

09:00AM - 09:00PM

Wednesday

09:00AM - 09:00PM

Thursday

09:00AM - 09:00PM

Friday

09:00AM - 09:00PM

Saturday

09:00AM - 07:00PM

Sunday

Closed