CDJR Electric Vehicle Models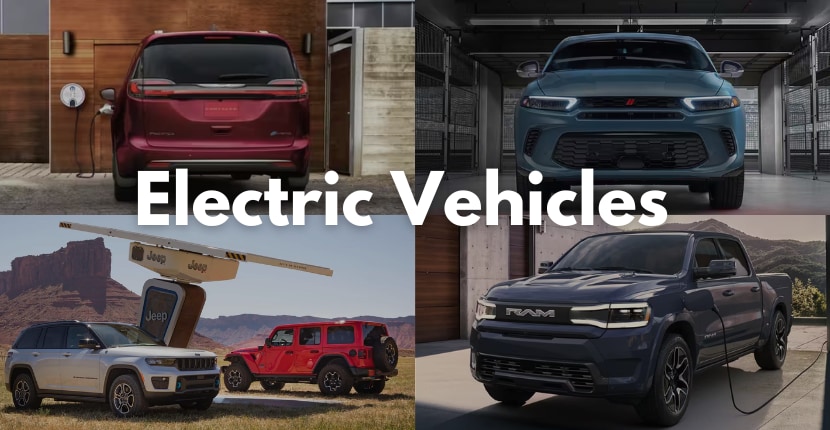 Ray CDJR EV Models
Discover the future of driving with the Ray CDJR EV Models. From Chrysler, Dodge, Jeep, and Ram, these electric vehicles offer a sustainable and efficient solution for your daily transportation needs.
At Ray CDJR, your EV dealer Fox Lake, we're here to tell you about the upcoming 2023 new EV models. If you're looking for EVs for sale Fox Lake IL, make sure you contact our friendly staff for more information. 
Chrysler EV Lineup
Chrysler is taking a big step towards a more sustainable future by introducing several new electric vehicles as part of its plan to have an all-electric lineup by 2028.
The Chrysler Airflow will be an all-new EV model, part of the automaker's expansive electrified product plan, and plans to arrive in 2024 as a 2025 model. This upcoming EV is expected to have a dual-motor setup with 201 horsepower electric motors front and rear, providing optional all-wheel drive. It has a 118.0-kWh battery pack with an estimated range of 350-400 miles, making it competitive with today's longest-range EVs.
Another popular EV is the 2023 Pacifica Hybrid. The 2023 Chrysler Pacifica Hybrid offers a spacious cabin and lots of standard features, making it the most fuel-efficient minivan option available. With a V6 engine and two electric motors (84-kW and 63-kW) paired with a 16-kWh battery, this hybrid delivers 260 horsepower for quick acceleration.
Dodge EV Lineup
Dodge is injecting new excitement into the EV compact SUV segment with its new hybrid models 2023, like the Dodge Hornet Hybrid. The Hornet R/T model offers a plug-in hybrid powertrain and will be available in spring 2023. With a turbocharged 1.3-liter I-4 engine, a 44-horsepower starter/generator, and a 121-horsepower electric motor, the R/T delivers at least 285 horsepower and 383 lb-ft of torque. The 15.5-kWh battery pack provides over 30 miles of all-electric driving, and the PowerShot feature appeals to traditional gearheads. The R/T uses a six-speed automatic transmission to drive the front wheels.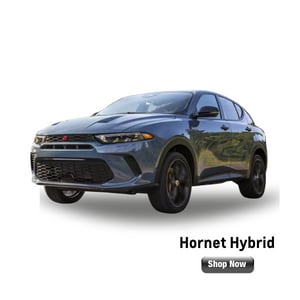 Jeep EV Lineup
The Jeep EV lineup features powerful and eco-friendly vehicles, including the Wrangler 4xe and the upcoming Recon EV, offering a combination of off-road capabilities and electrified performance.
This upcoming 2024 Jeep Recon EV is a fully electric mid-size SUV designed for off-roading adventures. Inspired by the Wrangler 4xe, it will have an available power-folding rooftop and removable doors. The Recon EV will join the Wagoneer EV as part of the expanding lineup of electric vehicles from Jeep. Reservations for the Recon EV can be made at a Jeep dealer near me and will start in early 2023.
Jeep Wrangler 4xe has 375 horsepower and 470 lb-ft of torque, making it the second most powerful model after the Rubicon 392. This power comes from its 2.0-liter turbocharged inline-four engine and electric motor. A 32-amp level 2 source is recommended for quicker charging, taking just over 2 hours to reach a full charge.
Ram EV Lineup
Ram is known for their gas-powered pickup and full-size trucks, but now it's making the shift to EVs with its upcoming 2024 Ram 1500 Rev. The 2024 Ram 1500 Rev will be the first all-electric pickup truck from Ram, offering a driving range of up to 500 miles. With 800-volt DC fast charging, the truck can add up to 100 miles of range in just 10 minutes. The dual-motor and all-wheel-drive pickup have a towing capacity that rivals modern gas-powered trucks, with a maximum driving range of 500 miles. If you're excited about the 1500 Rev, you can reserve yours at a local Ram Dealers near me, such as Ray CDJR.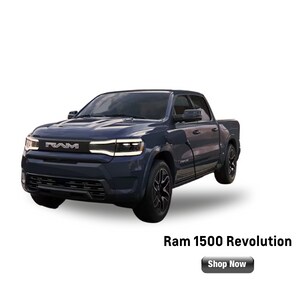 Discover the Future of Driving with Ray CDJR's Lineup of Electric Vehicles
You can find all the EVs for sale near me. Simply visit Ray CDJR and schedule a test drive. We're located at 23 N Route 12 Fox Lake, 60020, or call us at 84-443-9770.